NEW ALBUM 2021
Composer, arranger and current guitarist for German
heavy metal monsters U.D.O. and Dirkschneider, Andrey Smirnoff has released his first instrumental solo album, Electric Gravity (10th September, 2021).
"Electric Gravity" was created as a quintessence of all the best guitar oriented music genres. Andrey easily moves from classic heavy guitar riffing to jazz and twist, from modern metal aggression to soft and melodic ballads.              _____________________________________________________________________________________
►🎼Electric Gravity is a very honest and personal record. It's me and my guitar. All these years I've been writing songs, imagining singer's voice. But this time I let the song choose it's own path. I exposed my feelings through my guitar, my happiness and frustration, tranquility and anxiety, love and hate... I guess this album is 50 shades of Andrey Smirnoff.🤟

🎸Electric Gravity is now available on All Streaming Platforms (clickable links⬇):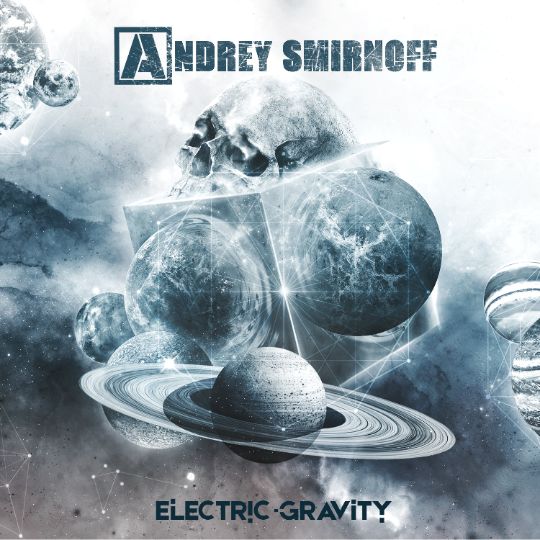 BIOGRAPHY

Andrey Smirnov (Andrey Smirnoff) is the current guitarist, composer and songwriter for U.D.O, DIRKSCHNEIDER band - German Heavy Metal monsters, led by German Metal icon Udo Dirkschneider (ex-ACCEPT). Andrey is a well known rock musician from Russia, multi-instrumentalist, and singer-songwriter who is the lead vocalist, guitarist, primary songwriter and founder of the Russian modern metal band EVERLOST. He is also the session guitarist of PAUL DI'ANNO, BLAZE BAYLEY (ex-IRON MAIDEN).Born 31 December,1983.
At the age of 12 he took an interest in rock music. Having played in many school bands, at the age of 15 Andrey formed his own one called DETONATOR, now known as EVERLOST. As a part of this band he has already recorded 5 albums: Bitterness of the Triumph (2004), Noise Factory (2006), Eclectica (2009), Put Nepokornyh (The Way of Defiant, 2011),V (2016) and 2 singles (Warrior and Supernova) in 2020.
From February, 2004 to May, 2007, Andrey had played in Moscow power-metal band Shadow Host, recorded album called "Curse of the Angeleye" (released in 2005) and also performed a lot of concerts, including gigs where Shadow Host was a supporting act for Gamma Ray, Nightwish, Grave Digger, Edguy, Stratovarius and other famous bands.
From the middle of 2008 until 2011 Andrey Smirnov was a guitarist of legendary metal band called MASTER (8 albums of this act had reached gold status in Russia alone), he also cooperated with a famous Russian rock-poetess Margarita Pushkina ("Dynasty of Initiates", "Gloominess Neutralizer" projects). Andrey took part in the recording of the latest album of the MASTER band, that was called "VIII".
As a guest musician Andrey took part in studio recordings and gigs of such Russian bands as EPIDEMIA, OLVY, TANTAL etc.
In early 2010 he accepted an offer to be a member of the accompanying band, led by the famous Paul Di'Anno (ex-IRON MAIDEN). The result of this collaboration was a tour of Russia and Ukraine, devoted to the thirtieth anniversary of IRON MAIDEN's album of the same name. A few years later Andrey started to work with one more ex-IRON MAIDEN singer Blaze Bayley. Next tour already with both of them took place at the end of February and in early November 2012 (which included Ukraine, Slovakia and the Czech Republic). The last ride across Russia with Paul and Blaze took place in May 2014.
From the middle of 2010 Andrey became the member of legendary rock-band ZEMLYANE. More than 30 years this band has being held in respect by millions of people of former USSR.
In 2012 Andrey finished recordings of his solo album "Adrenaline". Many famous Russian musicians from the bands ARIA, MASTER, GALAXY participated and assisted with the record. The album got great feedback and fortified Andrey's position in the music industry.
In early 2013 Andrey was announced as the new lead guitarist of legendary German metal band U.D.O.! This fact became a real sensation in the world of Russian music business. It was the first time in the history of Russian heavy metal music that a Russian guitarist became a part of a world famous music brand.
In March of 2013 Andrey presented two new releases. One of them is a new U.D.O. album "Steelhammer" which became the debut work of the famous Russian musician as a part of the new band. The album received a lot of positive reviews from all over the world.
The second CD is Andrey's new solo album «Тонкая грань» ("The Thin Line") which includes songs with guest singers and instrumental compositions. Since 2013 Andrey (as a part of U.D.O.) played a few world tours including huge European rock festivals such as Wacken, Graspop, Sweden Rock, Masters of Rock, etc.
In April 2014 Andrey together with Udo Dirkschneider, Max Cavalera, Zakk Wylde, Joey Belladonna took part in "Metal All Stars" project.
In the beginning of 2015 the second studio album "Decadent" with U.D.O. was released. It became Andrey's debut as a composer for U.D.O.
The list of U.D.O. live releases with Andrey's playing was complemented by two DVD's ("Live from Moscow" and "Navy Metal Night"). Last of them "Navy Metal Night" was one with German military orchestra and became one of the most special in the history of the group.
In early 2016 Andrey was announced as a guitarist of the new project DIRKSCHNEIDER led by the legendary Udo Dirkschneider! In October2016 DIRKSCHNEIDER live CD "Back To The Roots" (including Accept classic hits only) was released by AFM Records.
DIRKSCHNEIDER "Live - Back to the Roots - Accepted!" was released August 4th 2017 (also CD, Blu-ray, Vinyl)
U.D.O., the German metal band led by former Dirkschneider released its new album,"Steelfactory", on August 31 2018 via AFM. Band is constantly touring and working on new record.
In need of a music content?
In need of a professional touch of magic on your upcoming video or unfinished tracks?

Wanna have an original music content?

►music production
►sound design
►beat maker
►composing
►arrangements
►mixing